I seriously don't know if I should think this is cute, horrifying, or OK. I don't know if I should laugh about it, cry, start an intervention or just let it be. But this is what I found today...
Kroten, who has an attention span of 1.526 minutes depending on the mode of entertainment, was in
MY
bed playing daddy's PSP video game. It was turned on and he was pushing buttons as though he was really controlling the race car. I think he seriously thought that he was playing the game. The best part was that he played for probably 12 minutes before I made him stop so he could eat lunch. I am fairly confident that he would have kept playing if I didn't intervene.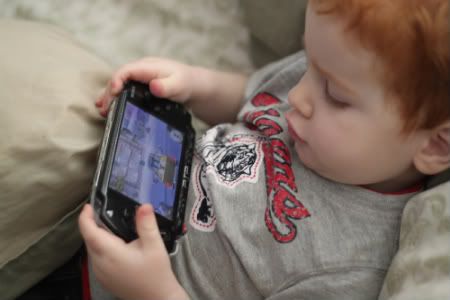 This video is sideways cause I am an idiot, but far too cute not to post. I love this little boy with all my heart. Video games or not!
Is it too early to say no video games till your chores are done?