This post is two weeks late. So now i am really 8 1/2 months. We have been SUPER busy the last couple of weeks. (more on that later) The only picture I have of me at 8 months is one while we were camping (again, more on that later)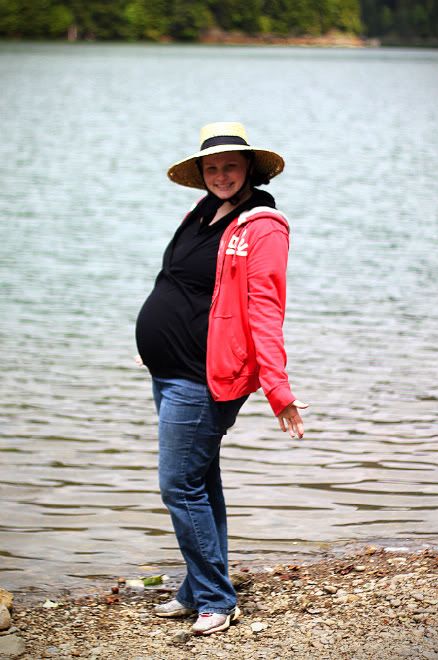 The doctor says that the baby is still measuring big and that my blood pressure is a tiny bit high, so we are going in for an ultra sound tomorrow. Hopefully it will all be good news. I am excited to see the little girl, even though an ultra sound at 34 weeks is pretty minimal, there is not much to see when they get this big. But it is still exciting.
I have been super tired and lazy lately. I just feel so drained. I asked the doctor about it and he just said that with a two year old at home, this pregnancy is going to be a lot more tiring than the first one.
I now weigh as much as I did the day I had Kroten. Every one say Hip Hip Hooray. Ok I am just trying to make myself feel better. Actually is sucks. But what can you do? So I eat another bowl of ice cream.
It is a little weird, I haven't craved a lot of different types of food, but I definitely lean towards the sweets instead of the salty. All I really really want to eat are 100 grand candy bars. That must be why I now have 100 grand to loose after she is born. LUCKY ME!
But the only true news is that we are having this baby in 5 WEEKS!!!!!!!