I have SOOOOO much to be grateful for today. I had the opportunity to go to Time out For Women with some pretty awesome ladies. It was amazing and EXACTLY what I needed.
Because I have been so stressed lately, I wasn't sure if I wanted to go. I was doubting if I should. Then Jared, who knew I needed it, told me to go, and assured me everything would be OK.
(so #1) I am grateful that Jared let me sign up, and then made me go. AND watched Kman all weekend!!
I got to go with the slaughter girls and my mom, and they are such wonderful women.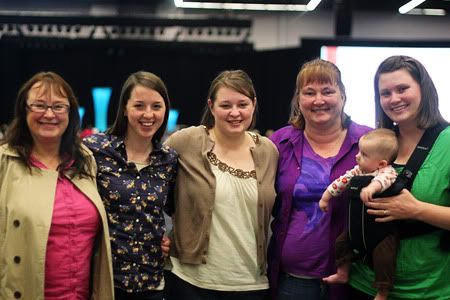 (So #2) I am grateful for wonderful people to surround myself with. They are beautiful, talented, wonderful women and I am grateful to call them friends.
Kem had to come with me because she loves me soooo much. I was a little nervous that she would be a pill, but she was SOOO good the whole time. SO good!
(So #3) I am grateful for a sweet baby that let me listen to some awesome speakers.
That leads me to a big one... (#3) I am SOOO grateful for the amazing speakers. I seriously think that they read my blog. Hillary weeks, if your reading this, I loved your necklace. :) Every thing that they talked about, was so my life. One lady even talked about carrying her daughters bike during walks. UH... MY LIFE STORY!!! I believe two things, 1, it made me realize my life is not that out of the ordinary, and it is ok, and it is going to be ok. And 2, Heavenly Father knows exactly what I needed to hear and he let me go to this conference to hear exactly what I needed to strengthen me at this time.
Oh and I am grateful for Mark Mabry, one of the speakers. He is a photographer and he is wonderful. I love my husband, but if he ever leaves, I am going to go find Mark. :) Some women have Leonardo Dicaprio, some have George Clooney, I have Mark Mabry.
(and #4)I am so grateful that my Heavenly Father loves me and that I was able to feel that this weekend. It was amazing.